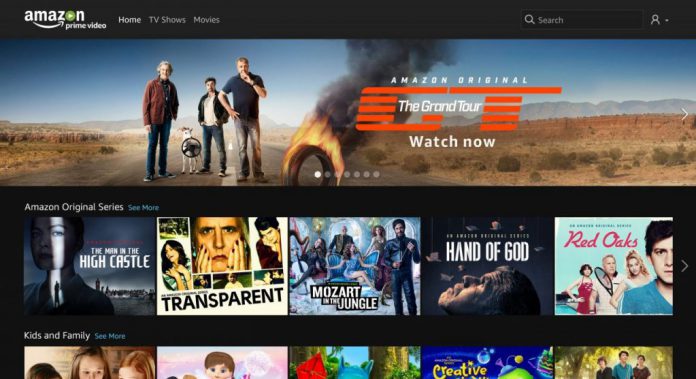 Amazon Prime video, il servizio del noto e-commerce per guardare film e serie TV in streaming è ora disponibile anche in Italia. Per accedere al servizio occorre raggiungere l'home page e utilizzare le credenziali dell'account Amazon Prime, il programma che consente di ricevere le consegne in un giorno. Coloro i quali invece non sono abbonati a Prime, potranno provare il servizio per un mese, ma una volta scaduto il periodo di test potranno continuare a fruirne dietro il pagamento di 19,99 euro l'anno.
Amazon Prime Video offre un catalogo abbastanza ricco, che include le Serie TV prodotte dallo stesso colosso dell'e-comerce come The Grand Tour, Transparent, Mozart in the Jungle, The man in the high castle (La svastica sul sole), ma anche le serie TV per bambini come Creative Galaxy, Gortimer Gibbon's life on Normal Street, Tumble Leaf e Wishenpoof. Non mancano, ovviamente, tante film e altre Serie TV non prodotte da Amazon come Crisis in Six Scenes di Woody Allen, Goliath con Billy Bob Thornton e la docuserie American Playboy: The Hugh Hefner Story. Disponibile anche Sneaky Pete, prodotta da Bryan Cranston, e Graham Yost, Z: The Beginning of Everything, con Christina Ricci.
Amazon Prime Video in italiano ma…
A partire da oggi Amazon Prime Video è disponibile in Italia e in altri 199 Paesi, ma al momento non ci sono contenuti italiani nel catalogo: bisognerà attendere verosimilmente qualche giorno prima che vi siano aggiunti. Parte dei contenuti sono in lingua inglese con sottotitoli in italiano, francese, portoghese e spagnolo. Oltre che da computer, il servizio di Amazon è accessibile tra tablet e smarpthone Android e iOS, tablet Fire, alcuni modelli di Smart TV di LG e Samsung, tramite l'app ufficiale di Prime. Come se non bastasse, il servizio consente il download di film e serie Tv in modo da poterle guardare anche senza connessione.